www.beforeblack.net
Home Page

Links
Turbochargers
If you have questions about anything listed, please use the MESSAGE BOARD. Information sources listed at bottom. Note: While I have proof read the numbers, please confirm them before making decisions regarding your car. Also, the books are NOT always 100% correct!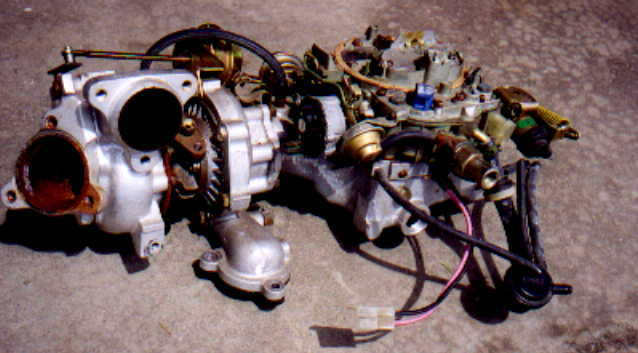 Turbo, Plenum and Carburetor from a '83 Turbo Regal
There are more GM parts numbers than those listed below. Many part number have been superseded. The same part may have more than one number. Missing numbers were already discontinued at the part book's printing.
CHRA is the Center Housing Rotating Assembly. This section contains the bearing, seals and impeller wheels.
Numbers are for "Kits" which include hardware and gaskets.
Reman turbocharger can be identified by an adjustable actuator rod, finned CHRA compressor side and ID tag.
Plenum casting numbers are not necessarily the same as part numbers.
Oil drain lines differ by year, but should all interchange since drain hole is in same location on all intake manifolds.
1978/79 used a rigid drain line that rested into the "hose" fitting. In 1980/83, Buick went to a flexible drain line that fit into a traditional grommet (like a PCV grommet, but bigger). If you can't locate the hose fitting, you might be able to find the flex drain line and grommet at a turbo shop. It's an improved design that should work better (easier installation). Here the GM part numbers:
1978/79 Drain line (connector) - 1260602
1978/79 Drain hose - 1260599
1980/83 Drain line - 25504159
1980/83 Drain grommet - 25504235

Turbos by Year
1978 - May not interchange with other years. Different head design may lead to slightly different mounting points.
1979 -
1980 - First year for flexible drain line
1981 - Wastegate Actuator has a "Normally Open" design. Uses one hose. Only year for this style actuator.
1982 - First year for the 0.63 Turbine housing. Quicker spool/Less Lag.
1983 - Factory turbo has finned CHRA compressor housing (visible above). Otherwise identical to '82 unit.

Buick V6 Turbochargers -RWD
| | | | | | | | |
| --- | --- | --- | --- | --- | --- | --- | --- |
| Year | Turbo- charger (reman) | Elbow Kit | Actuator Kit | Turbine Housing Kit | CHRA (reman) | Compressor Housing Kit | Plenum |
| 1978 | 25516906 | 25501284 | 1261048 | | 25516907 | | 25505951 |
| 1979 | 25516900 | 25501284 | 25501282 | 25501281 | 25516899 | 25501283 | 25505951 |
| 1980 | 25516902 | 25501284 | 25505450 | 25501281 | 25516899 | 25505452 | 25505951 |
| 1981 | 25516904 | Rev. WG | 25509508 | 25501281 | 25516899 | 25505452 | 25507718 |
| 1982 | 25516897 | 25501284 | 25512720 | 25512719 | 25516899 | 25505452 | 25510088 |
| 1983 | 25516897 | 25501284 | 25512720 | 22512719 | 25516899 | 25505452 | 25515253 |
CHRA may also be P/N 25511576 (taken from 1980 reman CHRA)
ALL RWD Buick Turbo use the same:
Plenum to Compressor Gasket - 1256502
Compressor to Intake Gasket - 1256504
Turbine to Downpipe Seal - 1262500
Oil Drain Gasket - 1256780

Buick V6 Turbochargers -Riviera
| | | | | | | | |
| --- | --- | --- | --- | --- | --- | --- | --- |
| Year | Turbo- charger (reman) | Elbow Kit | Actuator Kit | Turbine Housing Kit | CHRA (reman) | Compressor Housing Kit | Plenum |
| 1979 | 25516901 | 25501290 | 25501288 | 25501287 | 25516899 | | 25505976 |
| 1980 | 25516903 | 25501290 | 25505451 | 25501287 | 25516899 | | 25505976 |
| 1981 | 25516905 | 25509511 | 25509509 | 25501287 | 25516899 | | 25507720 |
| 1982 | 25512716 | 25501290 | 25505451 | | 25516899 | 25501289 | 25512538 |
| 1983 | 25512716 | 25501290 | 25505451 | | 25516899 | 25501289 | 25512538 |
CHRA may also be P/N 25511576 (taken from 1980 reman CHRA)
All Riviera Turbo use the same:
Plenum to Compressor Gasket - 1262807
Compressor to Intake Adapter- 1262809
Turbine to Downpipe Seal - 25504003
Oil Drain Gasket - 1256780
---
Sources:
BUICK 1976 through 1981 Chassis and Body Parts Catalog, #41
BUICK Parts and Illustration Catalog, #44W